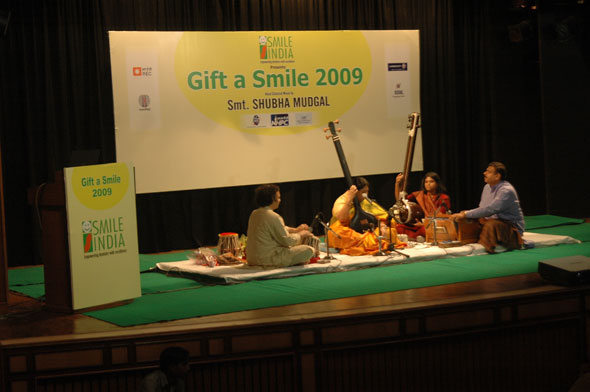 A Fund-raiser program of SMILE INDIA. In our endeavor to promote dental health and raise awareness of our activities, we organize a variety of musical evenings with renown  artists.These eminent personalities identify with and patronize Smile India's commitment to the society.
These periodic  programs help us raise donations to  the SMILE FUND which can be further redeemed in the  form of treatment for the underprivileged .
Over the past 10 years we have had a  variety of evenings with acclaimed artists who have done concerts for SMILE INDIA'S cause towards promoting and providing dental care to the under privileged. These committed artists have worked free of cost towards our cause.
Some of the events we have had till date include :-
'Gift a Smile' with Smt. Shubha Mudgal
'Gift a Smile' with Ustaad Shujaat Khan and Tavlin Singh
'Gift a Smile' with Ustaad Shujaat Khan and Mrs. Anita Singhvi
'Gift a Smile' with Deepak Rao
'Gift a Smile ' with Rashmi Vaidyalingum
This is followed by a unique "Smile Contest", in which pictures of every guest is clicked at the time of entering and evaluated by a panel of eminent judges, under  five different types of Smiles i.e. Vivacious, Innocent, Healthy, Mature, Perfect Smile. This interactive activity with the guests made the evening very exciting.
The winner is presented with a memento at the end of the show.
Silent Auctions
Many eminent artists have consented to donate their Premium work for Smile  India's noble cause .In these auctions there masterpieces are exhibited for sale.
The Smile Fund
Your monetary support to "The Smile Fund" will be greatly appreciated. The donors you can donate to Smile Fund.
The donors shall receive "vouchers", which can be redeemed in the form of treatment at the Smile India OPD clinic.
This treatment facility may be transferred/ gifted to anyone by the donor. All donations are eligible for Income Tax exemption under section 80G of the Income Tax Act. Interested Donors are requested to direct their queries to:
40 Niti Bagh, S.F.S DDA flats, Khel Gaon Marg , New Delhi- 110049.
Phone: 011-26863388, 011-41640959, 011-65806693 , 9810989564  
Fax: 011- 6519620
Email : info@smileindia.org, drshreya@smileindia.org